Natural Woven Wood Shades in Tampa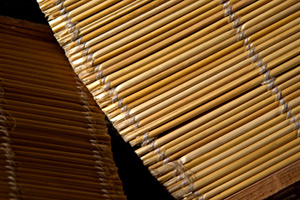 Opting for woven wood shades for your Tampa home is a smart move to make. Few looks are as natural, stunning and classic as this one. The other smart move you can make is team up with our crew of Tampa shutter company experts here at Gator Blinds to take care of this task. We offer a wide variety of superior quality window treatment options and can help you understand all of those choices available.
If you are considering this type of window covering, you can feel good about the casual, outdoorsy element this will add. It is also the ideal way to allow a moderate amount of light to filter in while still providing you and your family with the privacy you want and deserve. The best part is that they will easily fit into every look and style.
Top Quality Woven Wood Shades
Woven wood shades are also ideal for including in to just about every room in the house. The smartest thing you can do is contact our team of experts to take care of your window treatment needs. Since 1999, we have been the name that locals rely on for every option and every style. We offer the best in brand name choices at deeply discounted prices.
We also can provide you with a free in-house consultation or you can stop by and check out our showroom. With a turn around time of just two weeks, it will be no time at all until you have your custom shades but, you will also be glad to know, that we can provide you with free temporary shades while you wait. Give us a call today and let's get started.
Tampa Woven Wood Shades
If you would like to find out more about the options that you have, or about woven wood shades specifically, give our pros a call today. Let us show you in person how we have earned the impeccable reputation we have. We look forward to having the chance to work with you and help you select the perfect window coverings for your home. You are going to love the final results we are able to deliver for you.
So what are you waiting for? To get the best in Tampa woven wood shades, let our team here at Gator Blinds take care of all of your service needs. We can explain to you the options that you have and even assist you in making the best decisions for your home. Give us a call today and let us take care of whatever it is you decide on for your window treatments.
Tampa Shutter Company Provides These Services
Woven Wood Shades
Custom Wood Shades
Cordless Wood Shades
Woven Wood Shades Installation
Roman Wood Shades
Real Woven Wood Shades
Woven Wood Shades Company
Woven Wood Shades
Bamboo Wood Shades
Matchstick Wood Shades
Dark Wood Shades
Woven Wood Shades
If you are looking for a Tampa shutter company for shades then please call Gator Blinds at 813-358-6705 or complete our online request form.
Recent Articles
Dual Sheer Shades have gained immense popularity for their unique combination of style and functionality. These versatile window coverings offer an ideal blend of privacy, light control, and aesthetic appeal. In this blog post, we'll delve deeper into the world of Dual Sheer Shades, exploring their features, benefits, and reasons …

Continue reading "Know more about Dual Sheer Shades"

Window treatments that are stylish, affordable, and balance light and privacy are always desirable. With pets and kids around, another feature that adds up the list is safety. There have been many cases of strangulation from dangling cords in the U.S., and thanks to the manufacturer, today, several options are …

Continue reading "What are some Child-safe Window coverings?"