Best Quality Window Draperies in Tampa, FL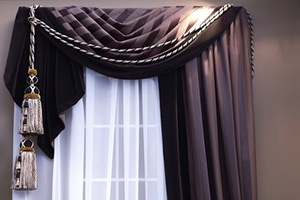 Another popular choice is for Tampa draperies and, once you see them in person, it is easy to see why. Not to mention, once you work with our team of experts you will also quickly see why we are the number one choice for any and all window treatment options. We care about taking care of our customers and helping them create the home of their dreams.
Your window coverings are one of the few features of your home that can be seen from both inside and outside of your home. That means this impacts both the interior design and the curb appeal, so mane your choice wisely. By working with our Tampa shutter company experts, you can get the variety you want as well as the advice you need to make the best choices possible.
Drapery Experts
We offer important options for drapery panels, curtains, valances and even hardware. From contemporary to traditional, we offer a wide selection to fit any style or look you want to create. This includes having choices from some of the most fashion forward fabrics in order to have the custom drapes you want. It is also the ideal way to match whatever aesthetics you are trying to create which can range from soft and romantic to crisp and contemporary.
This is also the perfect way to let in as much light as you want – or don't want. Aside from being able to easily open your drapes, you may opt for light and sheer see through or thick and dark blackout curtains. You can truly transform the look of a room by just the curtains you choose. Give your home a makeover and select the stunning drapes you want.
Tampa Draperies
If you are ready to get started then go ahead and give us a call. We look forward to working with you and helping you create the home of your dreams by providing you with your perfect custom window coverings. Let us show you the options you have and help you truly grasp just how vast the assortment is. For all of your window treatment options we can help you, while also setting you up with free temporary shades while you wait for your custom drapes to be made.
It's all about getting superior quality for every detail of your home. When it comes time to get your Tampa draperies in place, the only name you need to know is Gator Blinds. Since 1999, we have been the name locals rely on for all their window covering needs. Call today to set up your free in-home consultation.
Tampa Shutter Company Provides These Services
Drapery Curtains
Drapes & Curtains
Drapery
Curtains and Drapes
Window Drapery
Blinds and Drapes
Blackout Drapery
Ready Made Drapes
Curtain Drapes
Window Draperies
Window Drapes
Drapes and Blinds
If you are looking for a Tampa shutter company for draperies then please call Gator Blinds at 813-358-6705 or complete our online request form.
Recent Articles
Dual Sheer Shades have gained immense popularity for their unique combination of style and functionality. These versatile window coverings offer an ideal blend of privacy, light control, and aesthetic appeal. In this blog post, we'll delve deeper into the world of Dual Sheer Shades, exploring their features, benefits, and reasons …

Continue reading "Know more about Dual Sheer Shades"

Window treatments that are stylish, affordable, and balance light and privacy are always desirable. With pets and kids around, another feature that adds up the list is safety. There have been many cases of strangulation from dangling cords in the U.S., and thanks to the manufacturer, today, several options are …

Continue reading "What are some Child-safe Window coverings?"