Stylish and Functional Tampa Blinds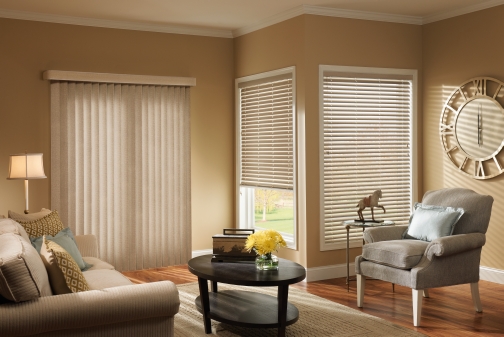 Window blinds are a very versatile, durable, and attractive form of window treatments. Their versatility is one of the main reasons that they're the most popular window treatment that we carry. They can be totally customized to complement any color scheme and style of interior design, and the professional Tampa blinds experts at Gator Blinds can help you find the perfect window blinds for your home.
We offer free in-home consultations, during which we can help you navigate our wide selection of Tampa blinds. After you make your selection, we can also provide you with measurement and installation services to ensure a perfect fit and long lifespan for your new window blinds.
Call us today to schedule your consultation, and we'll be looking forward to working with you!
How to Choose Your Window Blinds
You don't need to run from store to store comparing blinds, and the process of choosing your blinds doesn't need to be a stressful one. Our window blinds experts will come to your Tampa home and show you all of the options that we have available. We'll work with you to determine the specific qualities you want from your window blinds, then we'll help you choose from our wide selection. We'll make sure that you love the color, texture, and functionality of your new window treatments after they're installed.
We'll give you our professional advice and recommendations, but we'll always leave the final decisions up to you, and we guarantee your satisfaction with all of the products that we provide.
Types of Window Blinds
At Gator Blinds, we carry a wide variety of blinds made from different materials and in different styles and designs. We have a multitude of custom trims and other options, including decorative cloth tapes, cord cleats, motorization, and more. We'll be able to help you find the perfect new Tampa blinds for any room in your home.
Our window blinds include:
Faux Wood Blinds
Composite blinds
Aluminum Blinds
Fabric Blinds
Vinyl Blinds
Vertical Blinds
Motorized Blinds
And more!
No matter what kinds of blinds you're looking for, our professionals will be able to help you find the perfect match for your home, interior decor, and budget.
Vertical Blinds
Vertical blinds are an ideal choice for any rooms in your Tampa home that have large windows or sliding glass doors. When opened, vertical blinds can be tightly stacked to the side, allowing you take full advantage of your view. When they're closed, they can block all incoming light and increase your privacy.
If you're looking for Tampa blinds, call Gator Blinds at 813-358-6705, or fill out our online request form.
Recent Articles
Dual Sheer Shades have gained immense popularity for their unique combination of style and functionality. These versatile window coverings offer an ideal blend of privacy, light control, and aesthetic appeal. In this blog post, we'll delve deeper into the world of Dual Sheer Shades, exploring their features, benefits, and reasons …

Continue reading "Know more about Dual Sheer Shades"

Window treatments that are stylish, affordable, and balance light and privacy are always desirable. With pets and kids around, another feature that adds up the list is safety. There have been many cases of strangulation from dangling cords in the U.S., and thanks to the manufacturer, today, several options are …

Continue reading "What are some Child-safe Window coverings?"