Best Window Film Specialists in Tampa, FL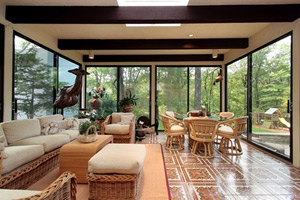 Thinking about using window films for your Tampa home? Then you are about to make a very wise decision. The other smart move to make is to partner with our experts here at Gator Blinds in order to get the look that you want. We can help you understand the options that you have available to you and even assist you in making the perfect choice for your budget and for the look you want to create.
So what exactly is a window film? Think of it as similar to the tint used for darkening car windows. This is the ideal way to cut down on harmful UV rays and keep your home at a comfortable natural light level, while still cutting down on your utility bills. Cutting down on the sun that filters in helps lower the cooling costs, not to mention you have choices that will help provide you with privacy as well.
Window Film Expert in Tampa
There are plenty of other benefits to choosing window film over other possible options. For one thing, this is a more cost-effective approach, as opposed to other possible window treatments. Also, this is ideal for anyone who doesn't want bulky coverings on their window – not everyone wants shutters or large curtains taking up space in their home.
Some of it is also about safety concerns. Strings associated with certain styles of shades or blinds can be a safety hazard for children or pets. Even curtains can become something that children or pets get tangled in and pull down from the wall. To eliminate any of these issues, window film is the ideal solution.
Tampa Window Films
To find out more about all that we have to offer you, give our team a call today. Your Tampa shutter company offers free in-house consultations or you can stop by our showroom and see all that we have to offer. We can even provide you with free temporary shades while you wait for your custom window films.
Whether you go with plain or with intricate designs, you are going to love the results you get by choosing this option. Retain the amount of natural light you want and keep the privacy you and your family deserve learn this here now. We will leave you with the results you have always wanted.
Give us a call right now to set up an appointment; let us show you the window films you can choose from for your Tampa home. We look forward to working with you. Let us show you in person how we earned the impeccable reputation we have.
Tampa Shutter Company Provides These Services
Windows
Window Films
Window Tint
Window Film Installation
Window Tint Film
Install Window Film
Glare Reducing Film
Window Tinting
Protective Film
Vinyl Film
Privacy Window Film
Tint Film
If you are looking for a Tampa shutter company for window films then please call Gator Blinds at 813-358-6705 or complete our online request form.
Recent Articles
Dual Sheer Shades have gained immense popularity for their unique combination of style and functionality. These versatile window coverings offer an ideal blend of privacy, light control, and aesthetic appeal. In this blog post, we'll delve deeper into the world of Dual Sheer Shades, exploring their features, benefits, and reasons …

Continue reading "Know more about Dual Sheer Shades"

Window treatments that are stylish, affordable, and balance light and privacy are always desirable. With pets and kids around, another feature that adds up the list is safety. There have been many cases of strangulation from dangling cords in the U.S., and thanks to the manufacturer, today, several options are …

Continue reading "What are some Child-safe Window coverings?"