Best Quality Honeycomb Shades Tampa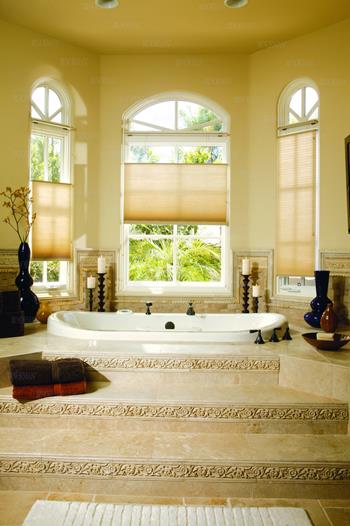 Honeycomb shades can offer your home the perfect combination of style and function, and our professionals can help you select the perfect honeycomb shades for your home. Honeycomb shades are often also referred to as pleated shades, cellular shades, or cellular blinds, and they're valued for their simple appearance, superior insulation, and excellent light control options. These window treatments are built with small honeycomb-shaped pockets (or "cells") which are designed to keep air from entering or escaping your home, and thick fabrics that provide even more insulation to help you keep your home's temperature stable and increase your energy efficiency.
Honeycomb shades are the perfect option for many different kinds of home, and they're available in a multitude of sizes, fabrics, and colors. The Tampa window blinds experts at Gator Blinds can provide you with an in-home consultation to help you find the perfect honeycomb shades for your home and interior design style, and we also offer measurement and installation services.
Call us today for a free consultation, and we'll be looking forward to working with you.
Benefits of Honeycomb Shades
Honeycomb shades offer a number of great benefits to Tampa area homeowners, some of which include the following:
Customizable sell sizes offer varying degrees of insulation from heat and cold, which can increase your home's energy efficiency and lower your utility costs.
Their fabrics are available in customizable light control levels: sheer, light filtering, room darkening, and blackout.
They are highly customizable and ideal for oddly shaped windows, angled windows, and skylights.
A top-down only option will preserve your privacy and block unwanted views.
Cellular window shades can be combines with a pleated fabric on the top to let in natural light, and a cellular fabric on the bottom for additional privacy and insulation.
Honeycomb Shades and Energy Efficiency
In Tampa, especially during the spring and summer months, keeping your home cool is one of your biggest priorities, and it's also one of your biggest expenses. Anything you can do to keep cooled air inside your home and heat and sunlight out will lower your energy costs and help you keep your home cooler throughout the hotter parts of the year. Our honeycomb shades are exceptionally great for improving energy efficiency.
The cellular structure of honeycomb shades provides more insulation for your home, and it helps to keep sunlight and UV rays from entering your home through your windows. With honeycomb shades, your air conditioner won't need to expend as much energy in order to keep your home cool, so you'll be able to have a more comfortable home at a lower monthly cost.
If you're looking for Tampa honeycomb shades, call Gator Blinds at 813-358-6705, or fill out our online request form.