Dependable Window & Blind Cleaning in Tampa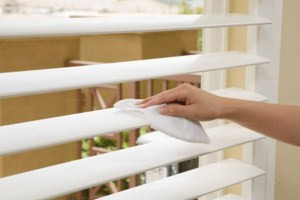 Another important task you will need to take care of is finding professional Tampa window and blind cleaning. At Gator Blinds, this is the type of work that we can provide you with. Don't settle for anything but the best when it comes to getting the level of clean that you want and need for your windows and/or blinds.
Your windows and blinds can begin to look rundown and make your home look shoddy so it is important to let our experts take care of professionally cleaning them for you. This is not the type of work that you want to try to take care of yourself. Not only will the results be uneven, but it is not going to look as good as you would like for it to. Call your Tampa shutter company today to find out more about what we have to offer you.
Window & Blind Cleaning Pros
When you want your home to look its best, you know that you need to have it looking spotless. Your windows and blinds are visible from both the inside and outside of your home. This means that if you do not have yours cleaned, this negatively impacts both your interior décor as well as your curb appeal – or lack thereof. Let us help you take care of making sure your windows stay clean and help improve the overall look for your home.
It takes training, technique, skill and the right equipment to get your windows and blinds as clean as they should be. Let our experts here at Gator Blinds help you get the results that you want and help keep your home looking its best, inside and out. When it comes to your home only the best will do, which is where we come into the picture.
Tampa Window/Blind Cleaning
Don't keep putting off until tomorrow what we can take care of for you today. We look forward to meeting with you and showing you in person how we have earned the reputation we have. You will appreciate the level of quality workmanship and customer service we provide for you, as well as every single one of our customers.
Our main goal is to help you create the home of your dreams; aside from installing the custom window treatments that make that possible, we can also help you keep it all clean. Let us work with you in order to help you understand the choices you have and how to keep them looking their best. As your premier choice for Tampa window and blind cleaning, you are going to love the results Gator Blinds delivers to you.
Tampa Shutter Company Provides These Services
Window Cleaning
Blind Cleaning
Window Washing
Window Washers
Blinds Cleaning
Window Cleaner
Clean Windows
Blinds
Clean Blinds
Window Blinds
Home Windows
Cleaning Service
If you are looking for a Tampa shutter company for window & blind cleaning then please call Gator Blinds at 813-358-6705 or complete our online request form.
Recent Articles
Dual Sheer Shades have gained immense popularity for their unique combination of style and functionality. These versatile window coverings offer an ideal blend of privacy, light control, and aesthetic appeal. In this blog post, we'll delve deeper into the world of Dual Sheer Shades, exploring their features, benefits, and reasons …

Continue reading "Know more about Dual Sheer Shades"

Window treatments that are stylish, affordable, and balance light and privacy are always desirable. With pets and kids around, another feature that adds up the list is safety. There have been many cases of strangulation from dangling cords in the U.S., and thanks to the manufacturer, today, several options are …

Continue reading "What are some Child-safe Window coverings?"